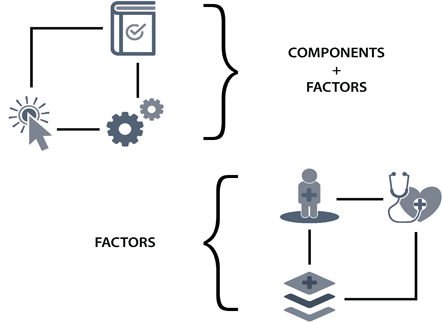 The toolset applies the evaluation model to real-life scenarios by:
Dividing the dimensions and net benefits into components and factors against which the system is evaluated,
Collecting data for each assessment factor,
Processing the collected data, and
Producing evaluation results according to a built-in scoring and ranking system.
Assessments are customizable:
Full evaluation: all factors are assessed,
Tailored assessment: single dimensions, single components or a set of specific factors can be selected.
Similarly, the evaluation can be:
Entirely outsourced,
Conducted entirely internally, and/or
Performed through a combination of internal and external audits.
By systematically collecting data, the toolset can establish baselines for the information system. By applying the toolset to multiple systems, healthcare decision makers can acquire an evaluation portfolio relevant to their entire organization. When used by multiple organizations, the toolset can help establish and adopt standards and disseminate best practices through objective benchmarking.
| | Component | Factor | Metric |
| --- | --- | --- | --- |
| Organizational Dimension | User Support | Helpdesk | Number of help tickets per month |
| Technical Dimension | Data | Data Loading | Number of loading failures per month |
| Utilization Dimension | Financial and Operational Utilization | Amount of Use | Number of distinct monthly logins |
The toolset operationalizes the evaluation factors into metrics:
When a factor involves multiple metrics, a weighting mechanism is applied to reflect their relative importance.
The measures collected by the toolset produce scores on each of the assessed factors.
Finally, a ranking system orders each factor and component by importance to form the overall score of the evaluation.